We have bred NAGAZI x YEGUVEKA. Here are the Goals for this litter:
1. Perpetuation of the very rare OMAR bloodline, which descends from dogs brought from Russia to Poland. The OMAR bloodline (see below) is almost completely gone in the world, leading to our keen interest in acquiring NAGAZI.
2. Recombining with blood from the legendary, Russian "foundation" champions LIMAN (line represented through VARNA) and FRANT (line represented through TAGOR).
3. Maintaining an aboriginal influence with descents through GHENGIS KHAN/RUSLAN, FARAON, VAKHSH and VAZO, each of who were at least partly aboriginal dogs, to thus carry the aboriginal attributes of vigor, cunning and genetic diversity.
4. Continuation of the working tradition of the Caucasian, with FARAON and POBEDITEL as more recent proven working titlists, and LIMAN, FRANT and others among the earlier generations representing a very long tradition for the breed.
5. Incorporate the ROBBER bloodline, which is sometimes held to also include LIMAN, and which has produced such excellent guardians as our CEZAR and KNIGHT Esquire and the beautiful ALI Hunza.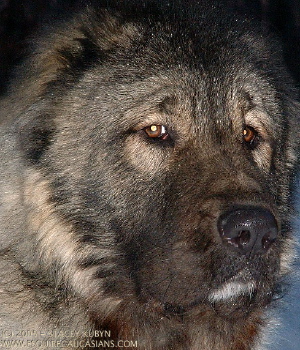 Here is the pedigree for our proud new father,
NAGAZI Hunza :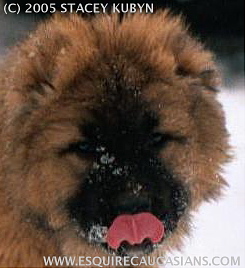 Here is the pedigree for the new mom, our "Berries", or by her formal name
YEGUVEKA :