"Love & Security one family at a time."
ESQUIRES' SIRES - PHOTO GALLERY
PUPPIES & IMPORTS FOR SALE - PHOTO GALLERY
ESQUIRES' DAMS - PHOTO GALLERY
Kavkazskaya Ovcharka ....
Earliest Domesticated Dog ?
The skulls of two Stone Age dogs believed to be the earliest known canines on record have been found, according to a team of Russian scientists. The dog duo, which lived approximately 14,000 years ago, appear to represent the first step of domestication from their wild wolf ancestors.

Mikhail Sablin, a scientist at the Zoological Institute of the Russian Academy of Sciences in St. Petersburg, analyzed the dog remains : "We suggest that the dogs looked like present-day Tibetan mastiffs or Caucasian sheep dogs," Sablin told Discovery News."

Click Here to Read More ....



Known by different names in different lands, we think the Caucasian Mountain Dog is the most interesting and wonderful dog breed in the world. We think you will find them amazing too!

PROTECTING FAMILIES FOR 3000 YEARS - CLICK HERE
Caucasian Ovcharka, Caucasian Shepherd Dog, Kavkazskaya Ovcharka, Caucasian, Kavkazets, Berger du Caucase, Ovtcharka, Caucasian Mountain Dog, Kawkasky Owtscharka, Kaukasische Schaferhund, Pastore del Caucaso, Volkodav.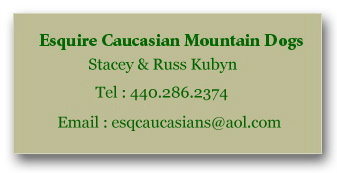 COPYRIGHT NOTICE
All material on this website Copyright © 1991-2015 Stacey Kubyn, Esquire Caucasians and others. All rights are reserved.
Copyright protection is hereby asserted in the United States and Internationally without limitation and will be vigorously defended. All content, graphics, photos and computer code herein are protected by US and International Copyright Laws, and may not be used for any purpose, nor copied, reprinted, published, translated, hosted or otherwise distributed by any means. Be advised that digital watermarking, tracking codes, encryption and other technical and non-technical means may be employed in the defense of these rights.




Finest Health - long-lived, active, athletic

Best Vet Care - our dogs & your puppy

Temperament - loving family members

Working Ability - they do their job

Support - 24/7 for the life of your dog

Experience - USA breed founders 1990

Stability - attorneys & lifelong Ohioans

Pedigrees - legendary Russian champions

Bear Type - they DO look like bears!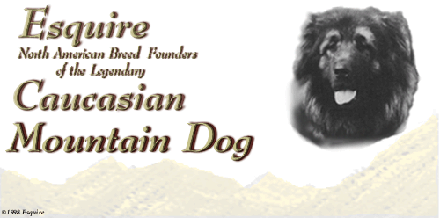 A World Class specialist kennel established in 1990.

Esquire Caucasians founded the Caucasian Mountain Dog (Kavkazskaya Ovcharka) in the United States. We are dedicated to responsible breed promotion and preservation.

We breed the best temperament Ovcharka: alert, intelligent, dedicated family protectors who are also calm, gentle, loving and heart-warming companions. Esquire dogs work as they were always intended to work: providing security for their homes while fitting into a family environment.

We specialize exclusively in the Mountain Bear Type Caucasian (historically called Transcaucasian or Georgian). Our foundation dogs are FCI registered. Famous Russian import bloodlines. We adhere to the Russian Kennel Federation Breed Standard of Excellence.

Our accomplishments include: the FIRST USA bred champions of the breed, the #1 USA Caucasian in USA show history, FIRST USA "Excellent" ratings by FCI Judges (undefeated under FCI working breed judges), the FIRST USA temperament certified Caucasians (multi-systems), the only Protection Certified Russian imports to the U.S., establishment of The US Parent Breed Club (COCA) and Code of Ethics, FIRST USA established health screening recommendations, FIRST USA breed rescue, and many community service projects.

We are breed fanciers, advocates, and guardians. Puppies available occasionally by reservation. Please follow the menu links at the left of this page for pictures of our dogs and information about the breed. Do visit your breeder in person. Our puppy buyers are welcome to visit the home of Esquire Caucasians!

Esquire Caucasians, USA Breed Founders. America's leader in the breed!